In January, our associate, Benter Ndeda, the CEO of the Aniga Women successfully delivered sanitary pads to local schools and reported back with some curious findings.
Last year, for a "period poverty" project, Global Footsteps contacted Ethical Giving, a charitable trust that contributes to good causes in Gloucestershire.
We received £2,000 to fund the project.
The purchase of large quantities of sanitary pads is not available in the rural county of Kisumu, which led Benter on a return trip to the capital Nairobi. Weather and road conditions made the trip challenging and delayed, and time engaged with the school and the girls resulted in the project taking three days.
In the report written by Benter Ndeda, dated the 28 January 2022, a total of 2,050 pieces of sanitary pads were purchased at KSh102 each. The number of pupils reached was 670, in 10 schools.
Benter highlighted in the report the challenges faced in the delivery, emphasising that a high number of girls were considered vulnerable. With exams in March, the number of pads provided per girl made sure that every one of them had enough for at least three months.
The visits to the schools also exposed vulnerability in boys, who reportedly complained of feeling neglected. The number of dropouts seems significant among them, as boys often only have tattered shorts and feel self-aware and ashamed when they don't have underpants.
Health concerns were also raised as schools have little affordability to invest in suitable disposal of sanitary pads. Most schools in the region use pit latrines as toilets, which quickly fill upon disposals. In the report, it was recommended that schools use an incinerator to help dispose of the pads and reduce any unnecessary risk of diarrheal diseases in pupils, a current risk affecting pupils' enrolment as well as health.
As part of the programme, the Aniga Women set a mentorship engagement to connect with and teach young girls about sanitary pads and mental challenges.
In Kenya, there are significant cultural taboos around menstruation, which pose an additional challenge to access and afford sanitary towels. Many girls in Kenya tend to miss an average of four days of school every month, an equivalent of a month per year, due to embarrassment and lack of guidance. These indices leave girls with a high likelihood of falling behind and/or dropping out.
The dropout rate among female students in primary and secondary schools is a tremendous existing problem in Kenya.
In addition to educational drawbacks, girls' health is also endangered by the absence of support and guidance on menstruation. Problems such as unhygienic ways to dry menstrual materials or dispose of them appropriately are commonplace. Girls also need to worry about leakage and lack of resources (e.g. soap, clean water).
Consequently, many girls grow in isolation and with low self-esteem, afraid of prejudices and negative attitudes.
The report highly encouraged the involvement of boys during mentorship and discussion of health and personal concerns to help bridge some of these existing problems.
The delivery of sanitary pads and the mentorship engagement had the objective of helping ensure girls between the ages of 10 and 17 years old:
have their school attendance improved,
have information promoted on menstrual hygiene management and risk awareness of HIV & AIDS,
are provided with documented lessons and options,
are able and incentivised to increase their self-esteem.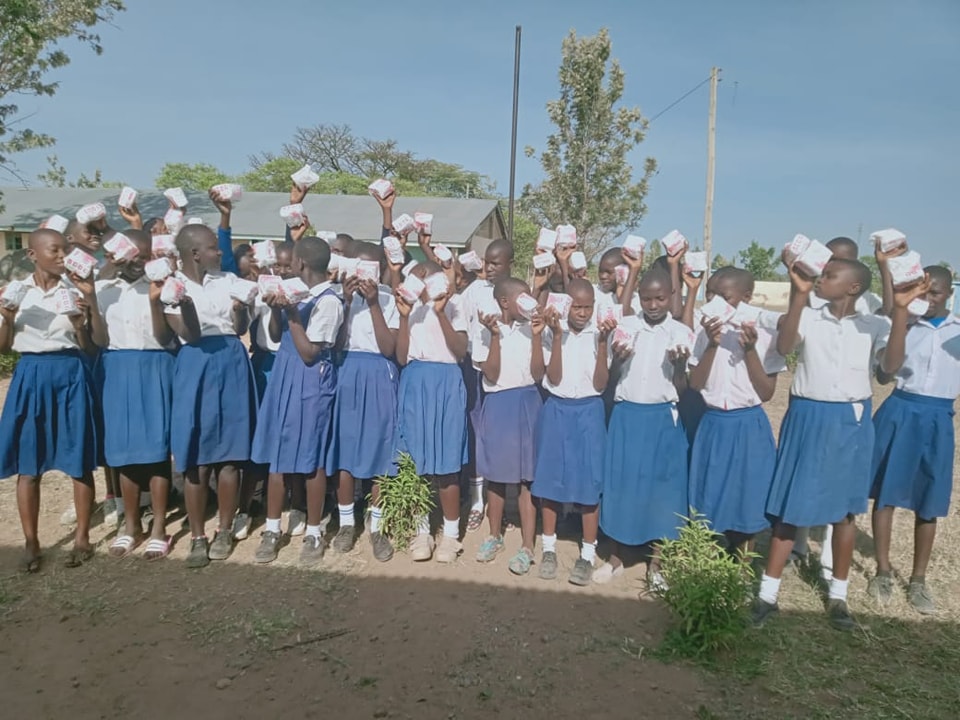 Read more on the topic here:
FSG-Menstrual-Health-Landscape_Kenya.pdf (menstrualhygieneday.org)
UNFPA Kenya | Period Poverty: The Weak Link in Ending Gender Based Violence: Dr Olajide is UNFPA Representative. Ms Mbugua is a Gender Equality Champion, author and Media Personality with the Inua Dada Foundation
Physical, Social, and Political Inequities Constraining Girls' Menstrual Management at Schools in Informal Settlements of Nairobi, Kenya (nih.gov)
Reports on Empower & Educate the Girls of Rural Kisumu – GlobalGiving